680 News – All News Radio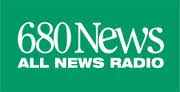 We are proud to partner with 680News for the 680News/En-Pro Gas Updates airing daily on the "9s."
Our Senior Petroleum Analyst, Roger McKnight provides the gas predictions for Toronto and the GTA.
NEWS RELEASE:
680 News and En-Pro International Inc. are proud to announce a new partnership that will provide our listeners with the most accurate gas price forecasts in the city.
The 680News En-Pro Gas Price Update will be based on daily estimates provided by oil industry analyst Roger McKnight. With over 25 years of experience, McKnight is considered one of Canada's leading energy experts.
Updates will now start four hours earlier on 680News and run each hour at :09 and :39 between 8:09am  and 12:39am Monday to Friday. This will provide listeners with even more time to prepare their gas purchase decisions.
"We're thrilled to be able to offer The 680News En-Pro Gas Update," said 680News VP and GM, John Hinnen. "Roger has been an industry expert, working with major oil companies, and as such he brings invaluable insight that will benefit our listeners."
Be sure to listen to 680News for the 680News En-Pro Gas Update every morning beginning at 8:09.  http://www.680news.com/category/gas-prices-2/
680News is Toronto's only all-news radio station and is one of 55 AM and FM radio stations owned and operated by Rogers Broadcasting, a division of Rogers Media Inc.
Established in 1985, En-Pro helps companies receive the best available prices for their energy and commodities at all times. En-Pro's team of Petroleum Analysts and Energy Cost Advisors work with businesses in a variety of sectors to develop strategies for all aspects of the energy procurement process, and to create effective sustainability initiatives.